Vocabulary Pages for Latin by the Natural Method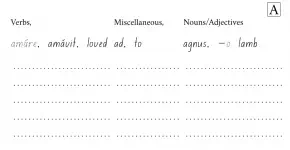 One of the recommendations in Fr William Most's Teachers' Guide is to have students construct their own vocabulary lists.
There is no printed vocabulary in the back of the first year book: the idea is to require the students make a vocabulary notebook. The notebook provides good practice, helps learning, and, because it is less convenient to use, encourages more memorising. It is suggested that a loose leaf book be used, with one sheet for each letter. In addition, it is well to make three columns in each sheet, as is done in the first year book: left column for verbs, right for nouns and adjectives, middle for miscellaneous. Students can estimate space needed for future insertions. If space is lacking in the future, the sheet can be recopied — very good exercise.
Some students may find the following template helpful. Some pages have the first entry filled in.
I've used NSW Foundation Regular from School Fonts. They support indigenous communities in the Northern Territory and look like a good initiative to support.
More materials at Latin by the Natural Method.