Attende Domine Colouring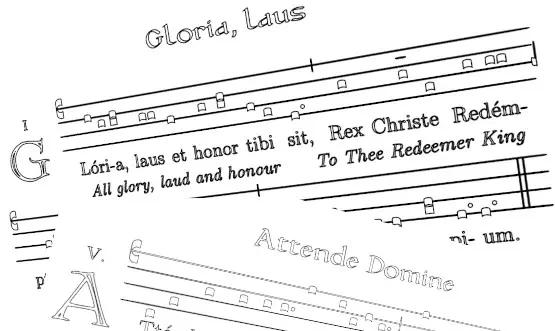 For Lent I've been running through some common antiphons with a couple of families via zoom. It's all a bit experimental.
Today we sang :
Attende Domine
Gloria Laus
and Regina Caeli - singing just the vowels in the A-word: "A-e-u-a"
At the end one clever chap started playing Attende Domine on the keyboard, so I thought I'd make up some pages with the letter names.
I had shown a page from Noel Jones' wonderful Gregorian Chant Coloring Book For Children & Adults which is a free download. He recommends using Green for Do and Red for Fa.
So I made outline versions of Attende Domine from A New Book of Old Hymns:
If you have a coloured piano, xylophone or tuned bell set, you can use the colours which match your instrument, or choose a colour scheme which you like!
We sang through Gloria, Laus for Palm Sunday, retelling the story of poet and bishop Theodulf of Orleans being imprisoned and singing his new hymn as the Emperor went past his cell. Emperor Louis the Pious was so impressed, he had Theodulf set free. You can read more about Theodulf of Orleans, Poet and Theologian in the Carolingian Court
And you can colour in the chant too:
We sang Regina Caeli, ready for Easter. I confess, I do sing Alleluias in Lent, just for rehearsals. As some of the kids picked up on this, we just sang the vowels for that word. The Regina Caeli has something funny in the clef, so I won't put the colouring page here. Maybe next week.