Conditor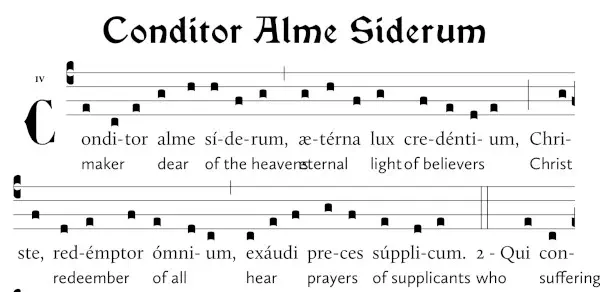 Preparing for an online chant class thing for Friday 17th November 2023.
Here's the fairly long-winded description of the hymn. Skip to 6:40 for the actual hymn being sung.
The New Book Old Hymns Conditor Page has some more resources. It has a 60 word vocab list and an enormous crossword puzzle. Some of our students would find that overwhelming, so here I've cut it down to 28. There are some easy ones in there (gloria=glory) so I'm hoping it's less intimidating.
cónditor : creator
alme : beloved
síderum : of the constellations
lux : light
aetérna : eternal
omnium : of all
exaudi : graciously hear
preces : prayers
qui : who
mortis : of death
saeculum : an age / generation
mundum : the world
donans : giving
remedium : remedy / medicine
vesper : evening
honestissima : most honest
virginis : of the virgin
matris : of the mother
potentia : power
genu : knee
judex : judge
in tempore : in time
a telo : from the weapon
laus : praise
honor : honour
gloria : glory
Deo Patri : to God the Father
Filio : to the Son
Hopefully that's heaps to get you started.