Retreat 2022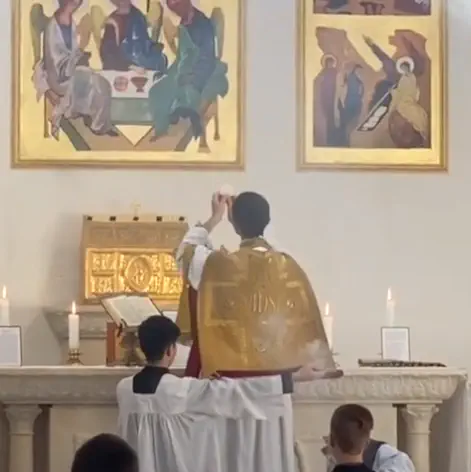 The April Camp tradition continued this year at the beautiful Benedict XVI Retreat Centre in Grose Vale. This time we had all Latin Masses thanks to our chaplain Fr Wallace, FSSP.
The last recordings I made are linked here - 2018 or 2019 or so.
Ordinaries
MP3 Kyrie - Missa Lux et Origo
MP3 Gloria
MP3 Credo 1
MP3 Sanctus
MP3 Agnus Dei
Propers
We sang the full Introit and the Sequence but took shortcuts with all the other propers.
MP3 Introit for Easter Thursday
MP3 Gradual (Haec Dies) and Alleluia for Easter Thursday
MP3 Victimae Paschali Laudes
MP3 Offertory Antiphon for Easter Friday
MP3 Communion Antiphon for Easter Saturday
Extra Chant
MP3 Ave Verum - Hail True Body more info
MP3 Sub Tuum Praesidium more info
MP3 Lapis Revolutus Est
Polyphony
MP3 Jesu Rex Admirabilis, a hymn by St Bernard of Claivaux arranged for three voices by Giovanni Pierluigi da Palestrina.
MP3 Adoro Te - Esteban Moreno OSB more info
MP3 Adoro Te - Moreno and Chant Interleaved - edited from how we actually sang it - info on the chant hymn by St Thomas Aquinas
MP3 Panis Angelicus, Casciolini
MP3 Regina Caeli - Aichinger
MP3 Sicut Cervus - Like the deer that longs for running streams…
Hymns
MP3 O Sanctissima
MP3 Now Thank We All Our God
MP3 Jesus Christ is Risen Today
MP3 Hail Redeemer