Rorate Caeli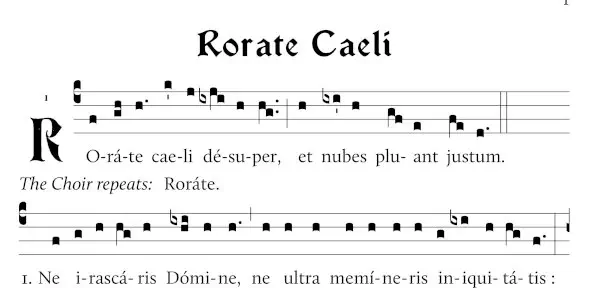 Preparing for an online chant class thing for Friday 24th November 2023.
Here's the video I made earlier
The New Book Old Hymns Rorate Page has some more resources. It has a longer vocab list and an enormous crossword puzzle.
Here is a shorter list and more manageable puzzle
rorate drip ye
caeli heavens
desuper from above
nubes clouds
pluant they rain
justum the just one
ne irascaris don't be angry
Domine O Lord
ne memineris do not remember
iniquitatis iniquity/sins
ecce behold
civitas city
facta est is made
deserta desert
desolata est is desolate
domus house
ubi where
laudaverunt they have praised
patres nostri our fathers
Hopefully that's heaps to get you started.